Clam tides, glass float finds and the holiday festivities are all getting started at the beach during the month of November. So head to the beach for your favorite activity.
Ocean Shores is hosting the Sasquatch Summit and the Winter Fanta-Sea.
Seabrook has the Veterans Day Celebration, the Holiday Tree lighting and of course the Holiday Glass Float Find which starts November 23rd and runs all the way until January 1, 2020.
---
Picture Courtesy of Seabrook, WA

Westport is quiet during this time of the year, but has clam digging and is great for a quiet get-a-way.

Head to the beach the week of thanksgiving and enjoy a great Thanksgiving dinner at one of their restaurants and then enjoy clam digging for the rest of the weekend.

All the beaches have tentative clam digs during the month of November. The digs are in the evenings, so be safe, take a light to see the clam holes and never turn your back to the ocean.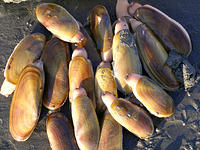 Confirmed and Tentative Clams tides in November:
November 11-17 Ocean Shores, Seabrook, Pacific Beach
Confirmed Clam Digs (Evening Tides):• November 11, Monday, 5:51 pm, 0.1 feet; Long Beach, Twin Harbors, Copalis• November 12, Tuesday, 6:27 pm, -0.3 feet; Long Beach, Twin Harbors, Mocrocks• November 13, Wednesday, 7:03 pm, -0.5 feet; Long Beach, Twin Harbors, Copalis• November 14, Thursday, 7:41 pm, -0.6 feet; Long Beach, Twin Harbors, Mocrocks• November 15, Friday, 8:22 pm, -0.5 feet; Long Beach, Twin Harbors, Copalis• November 16, Saturday, 9:08 pm, -0.3 feet; Long Beach, Twin Harbors, Mocrocks• November 17, Sunday, 9:59 pm, -0.1 feet; Long Beach, Twin Harbors, Copalis
November 24-30 Ocean Shores, Seabrook, Pacific BeachTentative Clam Digs (Evening tides):
• November 24, Sunday, 4:47 pm, -0.4 feet; Long Beach, Twin Harbors, Copalis• November 25, Monday, 5:34 pm, -1.0 feet; Long Beach Twin Harbors, Mocrocks• November 26, Tuesday, 6:18 pm, -1.3 feet; Long Beach, Twin Harbors, Copalis• November 27, Wednesday, 7:02 pm, -1.4 feet; Long Beach, Twin Harbors, Mocrocks• November 28, Thursday, 7:44 pm, -1.2 feet; Long Beach, Twin Harbors, Copalis• November 29, Friday, 8:29 pm, -0.7 feet; Long Beach, Twin Harbors, Mocrocks• November 30, Saturday, 9:10 pm, -0.2 feet; Long Beach, Twin Harbors, Copalis
Other November Events:
November 2 Grayland Pomegranate Holiday Open House from 11 am-5pm
November 10 Seabrook Veterans Day Celebration 6pm November 16th Tokeland Annual Clam JamNovember 22 Ocean Shores Sasquatch Summit- November 29-Dec 1 Ocean Shores Winter Fanta-Sea November 29 Seabrook Holiday Tree Lighting 5pm November 23-Jan1 2020 Seabrook Glass Float Find Beach Blog Diane,Grays Harbor Beaches