WDFW announces 36 days of tentative coastal razor clam digging opportunities beginning Sept. 29!  Watch for updates as tides are approved!

Seabrook, WA
Situated on a scenic bluff in the Pacific Beach area, Seabrook is one of the newest beach towns along the Washington Coastline.  It was established in 2004 by Founders Casey & Laura Roloff from the Pacific's Northwest desire to have a friendly, walk-able neighborhood. 

Seabrook's Market Place and Mill 109 Restaurant
Located about two and a half hours from Seattle, Washington, Seabrook offers many beautiful views of the Pacific Ocean and a network of paths, trails, and sidewalks for visitors and home owners alike to experience the best in coastal living. All this within a 5 minute walk to town center and the beach access.

The town consists of many small shops, a restaurant, pizza, ice cream parlor, wine and cheese shop, a bakery, and a small general store. They even have a shop for your dogs. 

During the summer months, they have a weekly Friday night concert, and a Saturday morning farmers market.  Their Town Hall is great for gatherings and weddings. 

Seabrook has many vacation cottage rental homes which are ideal for getaways, family vacations, reunions, retreats, business conferences and weddings. All cottages are completely furnished and all amenities are provided. Many of the homes are pet friendly.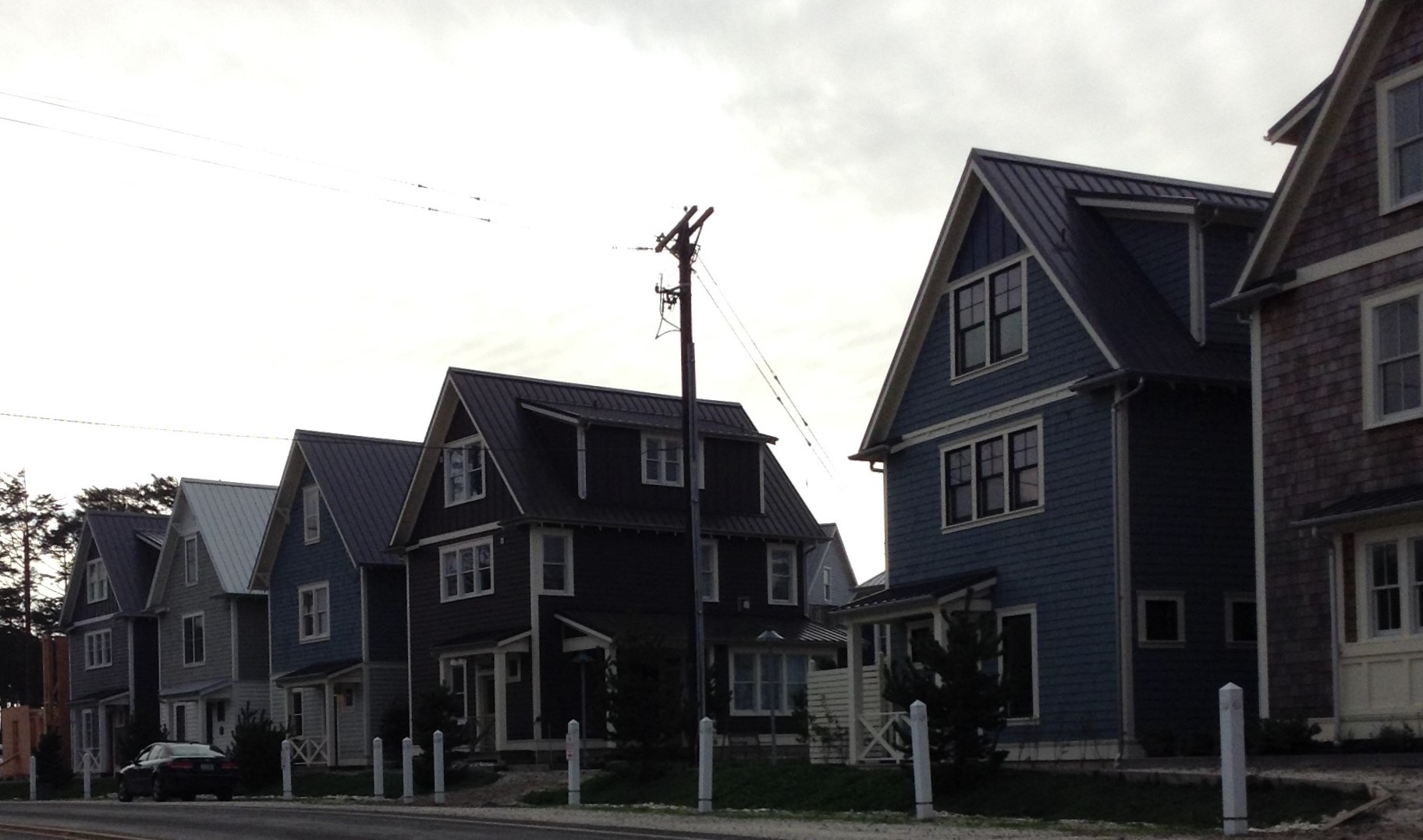 Cottages on the Bluff overlooking the Pacific Ocean
Want a private cottage for your family? They have many different districts/ neighborhoods in which you may purchase or build a home. The neighborhoods and districts include:

NW Glen Oceanfront Neighborhood with oceanfront homes that are situated on the bluffs' edge overlooking the the beautiful Pacific Ocean.
Elk Creek Oceanfront Neighborhood which is the second phase of homes with stunning views of the ocean.  This neighborhood is situated right above the Elk Creek estuary and has the easiest beach access.
Dorothy Anderson Cottage/Community Garden Located just north of Crescent Park, the original cottage has been fully restored to its  original condition. 

Farm District is located on the eastern edge of town and offers a simpler, more peaceful life with just a short walk to the beach.  This district offers a relaxed rural setting, while staying true to the look and feel of farm life.
Front Street Market Seabrook's grocery market provides visitors and residents with all the basic groceries they need.
Retail District Located in the center of town with many small shops and restaurants.
Town Hall This is Seabrook's central landmark welcomes guests and owners for many different events.  It has a full commercial kitchen  along with state of the art sound and video system.
Bike Shop/Repair Area This opened in the spring of 2016 and you may rent bikes here or have your bikes repaired or tuned up.
Meriweather Square and Gazebo An outdoor room to meet guest and your neighbors while admiring the view of the Woodland Promenade and Perennial Park.
Playground & Basketball/Tennis Courts Situated at the entrance of the Farm District, this area is a great area to bring the kids to play or to play basketball/tennis while relaxing at the ocean.
There are basketball courts, tennis courts, bike rentals running paths, a indoor heated pools and many other things to do and see while visiting Seabrook.