South Beaches Annual Events 
Grays Harbor Beaches dates for annual events at both the North Beaches and South Beaches are listed to help you plan your next visit to to the Pacific Ocean. The following events are going on at both beaches.
South Beaches Annual Events 
Late June-Early October-Westport Marina

Westport Marina-Seafood Connection Albacore Tuna Months Purchase fresh Albacore Tuna right off the docks from the fishing fleet.

March 15 - September 30 Westport

Westport Charter Boat Association Fishing Derby compete daily and weekly for cash prizes.

WCBA will have a $10,000 prize for the largest Chinook. This is fantastic news for all you Salmon  fishermen. Here are the latest derby winners. 
April 2021
| | |
| --- | --- |
| April TBA Grayland | 58th Beachcombers Driftwood Show  & Glass Float Hunt Vendors, Music, Food, Driftwood, Exhibits, competitions, and prizes. Glass Float Round Up on Grayland Beach Sat. 10-5, Sun 10-4 info: 360-268-0080 or 360-267-6532 |
| April TBA Westport, Grayland (Twin Harbors) | Proposed Clam Tides: |
| April TBA Tokeland, North Cove & Grayland | Tokeland & North Cove Art Studio Tours & Auction- Open studio tours in Tokeland and North Cove. Saturday 10-4, Sun 12-4 with an auction event Saturday night 6-9 benefiting the Ocosta School District art program. Sponsored by the North Cove-Tokeland Chamber of Commerce. Information: 360-590-0222 or Facebook page |
| April TBA Westport/Grayland | Coast Clean-Up The crew from Olympic Coast Cleanup will take on the South Beach area for info click here |
| April TBA Westport | World Class Crab Races , Crab Feed & Crab Derby and Clam Derby  A unique annual event for a family fun day at Westport Marina. Come eat, Race and enjoy!  This year there is a clam Derby as well. Races/Feed Sat 11-5. Derby Sat. 8-5, Sun 8-3 for more Crab Derby info, More Razor Clam Derby info |
| April TBA Westport | Easter Egg Hunt hosted by Chateau Westport on their property for Kids 5 & under and 5-12. |
| April TBA Westport, Grayland (Twin Harbors) | Proposed Clam Tides: |
May 2021
| | |
| --- | --- |
| MayTBA Westport/ Hoquiam | 26th Annual Grays Harbor Shorebird Festival Headquartered at Hoquiam High School. Sponsored by GH Audubon Society. 360-289-5048 |
| May 2 Tokeland | Tokeland & North Cove Art Studio Tour & Auction Open studio tours in Tokeland and North Cove from 10 am-4 pm with an aution to follow. |
| May 2 Ocosta | 37th Annual Oyster Feed Ocosta Recreation Hall 3-7 pm All you can eat (approx 5 miles east of Westport) for info call 360-648-2190 |
| May TBA Westport | K9ScootersNW Goes to the Beach Starts on Friday at 8:00 pm  Teams will run on the dune trails between W. Ocean Avenue and the marina tower.  Saturday at 1 pm watch the dog teams parade down Westhaven Dr.  At 1:30 pm meet the mushers at City Parking Lot #3 (nest to Nyhus St.).  Ask questions, see the gear, and pet the dogs.  Click here for more information. |
| May TBA | Halibut Fishing Days |
| May TBA Westport | Blessing of the Fleet Please join us in this annual event remembering those lost at sea and bless the fleet for a safe and bountiful harvest. for info 360-268-9422 |
| May TBA Westport | VFW Memorial Ceremony Memorial ceremony at Veterans Memorial Park. Starts at 11am 360-268-9543 |
June 2021
June TBA Westport

Hailbut Fishing:

Or until the quota is met.

June 25-27 Westport 

Rusty Scuppers Pirate Daze Rival pirates invade Westport for a weekend full of fun, food and frivolity.  Additional info
July 2021
| | |
| --- | --- |
| July 1-October 1 Westport | That Summer Gallery in Westport Over 50 talented and regional artist exhibit and sell their art on Saturdays and Sundays from 10-4 throughout the summer. Opened July 2nd through out Labor Day.  Sponsored by the South Beach Arts Association. |
| July 4 Westport  | Maritime Museums' Ole Fashioned 4th  Crafts, food & music at the Maritime Museum. |
| July 4 Westport Marina | Booming Bay Fireworks Display Show starts at dusk. |
| July 4 Tokeland  | Tokeland 4th of July Parade Join in the festivities of the uptown parade in one of Washington's oldest resort towns |
| July TBA Tokeland  | Tokeland Trek Family and dog friendly community hike in Tokeland.  This annual event varies between 1 and 2 mile adventures each year.  A sack lunch and T-shirt are included with registration. Sponsored by Tokeland-North Cove Chamber of Commerce.  Call 360-590-0222 for more information |
| July 11 Westport  Light State Park | Run Like The Wind Fun Run-5K Run/Walk & 10K Run Starting at the Wesport Light State Park parking lot and go around the west coast's 3rd tallest lighthouse and down our scenic dune trail while enjoying the nice ocean breezes and catching glimpses of coastal wildlife. For the most hearty among you, continue over the dunes and along Half Moon Bay to the lookout tower in the marina district and then turn around and enjoy it all from a different angle. For more info, click here.   |
| July 26 Grayland Beach | Windriders Kite Festival Kite flying competition, demonstrations, games and auction. Photos from previous years. Click here or more information |
| July TBA Westport  | Eastside Street Rods Show & Shine Scenic poker run, parade, and Show & Shine. |
| July TBA Westport- | Elk River Boat Challenge a seven mile human powered boat race at 1 pm on the beautiful Elk River Estuary. For info call 360-268-9712 |
| July TBA Westport | Tokeland Wood & Arts Fest Chainsaw carving, wood artists, demonstrations, food vendors & live music.  Presented by the Tokeland North Cove Chamber of Commerce. 360-267-6304 |
August 2021
| | |
| --- | --- |
| August 4 Westport  | Coast Guard Day – Held every August 4th to commemorate the founding of the United States Coast Guard.  Activities at the Westport Maritime Museum and Grays Harbor Coast Guard Station. |
| August 7-9 Grayland Beach-  | Jet Ski Competition Grayland open Surf, Big Air and Motosurf Racing competitions.  For information contact Dan Lindgren, West Coast Surf Riders 360-593-0984 or see website |
| August TBA Westport |  ANNUAL VETERAN APPRECIATION DAYS STREET FAIR - Hosted by Mission Outdoors. KAYO Country and the KAYO Country Girls will be broadcasting live. For more information please call 253-802-0800 or email info@missionoutdoors.org. |
| August TBA Westport- | 12th Annual Washington Tuna Classic This is a charitable tuna derby with proceeds benefiting Northwest Harvest, Wounded Warrior Project and Disabled American Veterans. Sign up early as spots fill fast. for info call 206-218-6785 or click here |
| August 21-22 Westport | Westport Art Festival judged show of fine arts and crafts. For additional information Click Here |
September 2021
September TBA  Westport 


74th Annual Seafood Festival & Craft Show A family feast with fresh fish, oysters and more. Live Music by local band Catch Of The Day. for more details on the event Click Here

September TBA  Westport Docks 

Corvettes at the Marina Corvettes of Grays Harbor invites you to "Bring Your Corvette to the Marina". For more info Click Here

September TBA Westport 

Brady's World Famous Oyster Feed Oysters served every way you love them! Proceeds benefit clean water and scholarships.

September 15-October 31 Westport

Boat Basin Salmon Derby Dockside fishing for salmon with great locally donated prizes at the Westport Marina. For entry call 360-268-1234 Derby Rules.

September TBA Local Area 


22nd Annual 30 Miles of Junque From Tokeland to Westport & Ocosta, Garage sales galore. 

SeptemberTBA  Westport

Surfer-Westport, WA

19th Annual Clean Water Classic Watch or participate in this surfing contest in Westport. For information Click Here

September 19 Local Beaches

48th Annual Operation Shore Patrol Beach cleanup sponsored by the State 4X4 Association

September TBA Westport

Westport Maritime Music Festival Come enjoy great music, vendors, food and beer garden on the grounds of the Westport Maritime Museum. This 3 day music festival has all genres of music.

September26 Westport

Reach the Beach-Washington  This one day event is perfect as a personal challenge or to ride together with friends and family.  This is a top notch ride with amazing support that gives you four different start locations and ends in Westport, WA.  Superb organization, beautiful routes, medical and mechanical support on course, and eight lunch and snack stops are provided.  Join this fight against lung disease and support the American Lung Association programs. Click here for more information

October 2021
Oct TBA Grayland

Cranberry Harvest Festival Cook-Off Organizers are looking for folks to enter their best cranberry dishes in the Cook-Off Competition.

October TBA Grayland

 

Cranberry Harvest Festival Bog tours, cranberry cook-off and firelight parade. 

October TBA Grayland 

Jog the Bog and Beach 5K & 10K Run / 3K Walk, starts at 9 am.
November 2021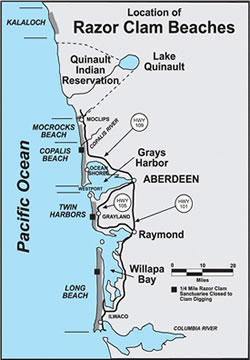 | | |
| --- | --- |
| November TBA Westport/Grayland/(Twin Harbors Beaches) | Tentative Clam Tides-Evening Digs:  |
| November TBA Grayland | Pomegranate Holiday Open House from 11 am-5pm |
| November TBA Tokeland | Annual Clam Jam They'll have fritters and dip and also an amateur clam chowder competition.  Bring your favorite recipe and see if it can stand the heat of the competion.  There will also be bluegrass music. At the Tokeland Hotel and Restaurant from 4-8 pm. More info |
| November TBA Westport, Grayland/Twin Harbors | Tentative Clam Tides-Evening Digs:  |
| | |
| November TBA Westport Grayland/Twin Harbors | Tentative Clam Tides-Evening Digs: |
December 2021
| | |
| --- | --- |
| December TBA Westport- | Santa by the Sea Join the South Beach Buccaneers as they welcome Santa to the South Beach.  Santa arrives at the Westport Marina at 10:30 am.  for more info call 253-381-5989 |
| December TBA Westport, Grayland, Twin Harbors | Tentative Clam Tides-Evening Digs: |
| December TBA Westport | Chateau Wesptort Holiday Bazaar 11-am-3pm |
| December TBA Westport, Grayland, Twin Harbors | Tentative Clam Tides-Evening Digs: |
January 2022
| | |
| --- | --- |
| January 1-February 28 Local Beaches | Storm Watching 18 miles of beachcombing |
February 2022
| | |
| --- | --- |
| February Local Beaches | Storm Watching at it's best |
| February    Westport, Grayland | Tentative Clam Tides: |
March 2022
March 1 - May 30 Westport


Gray Whale Watching Charter Boat trips leave from the Westport Marina. For reservations call 1- 800-345-6223


March TBA Westport

Deep Sea bottom fishing starts Call your favorite charter boat and get scheduled!

March 15 - September 30 Westport 


Westport Charter Boat Association Fishing Derby compete daily and weekly for cash prizes. More info


March TBA Westport, Grayland (Twin Harbors)

Clam diggers-Grayland

Proposed Clam Tides:

March TBA Westport, Grayland (Twin Harbors)


Proposed Clam Tides